French, Italian and English Language Tutoring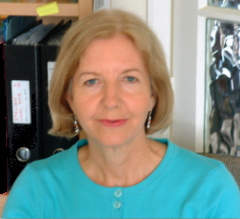 Alison is an experienced French, Italian and English Language tutor at beginner level through to GCSE and in French and Italian at A level. She is a graduate of Somerville College, Oxford and gained her BA Honours degree in Modern Languages in 1975. She is fully qualified to teach in the post-16 sector, having gained her Certificate of Education in 2007 at the University of Northampton while teaching in schools and adult education classes. She is currently teaching English Language and Grammar at primary and secondary levels in one-to-one sessions and has gained a wide experience over many years in this subject. 
Alison has been an Italian and French tutor for Northamptonshire Adult Learning for 12 years and is the Italian tutor at a secondary school (a language college) in Northamptonshire. She taught A level French at the former sixth form college in Daventry, Northamptonshire, now part of Northampton College. Alison continues to teach French and Italian lessons, in classes and in one-to-one sessions as a private tutor. Her methods in French and Italian include using exam papers from different exam boards for practice in speaking, listening, reading and writing skills. Practice in speaking has given students confidence in approaching the Oral exam at GCSE, AS and A2 levels. Her focus on grammar practice and writing skills has also enabled students to gain A, B and C grades at Wellingborough School, Northampton School for Boys, Campion Bugbrooke, Roade and Sponne School.
Alison is an experienced private English language tutor, offering one-to-one tuition for school students from nine years old upwards. She gives English grammar lessons to primary school pupils to enable them to gain higher National Curriculum levels before moving up to secondary education. She has helped GCSE students to exam success by intensive coaching in writing skills combined with literary analysis of media, non-fiction and fiction texts, depending on the requirements of different exam boards. Alison gives English lessons for those needing to improve their basic English speaking and writing skills in order to access college courses.
Alison lives in Pattishall near Towcester, Northampton and can be contacted at 01327 830770 or 07794 742286 or by e-mail using the contact form.
The charge for all languages tuition is £30 per hour payable after each session.  There is no charge for missed sessions.